19 - 27 May 2022
"82nd Year of Melattur Bhagavata Mela Nataka Mahotsav'', as part of ''Sri Narasimha Jayanti Vasantotsav''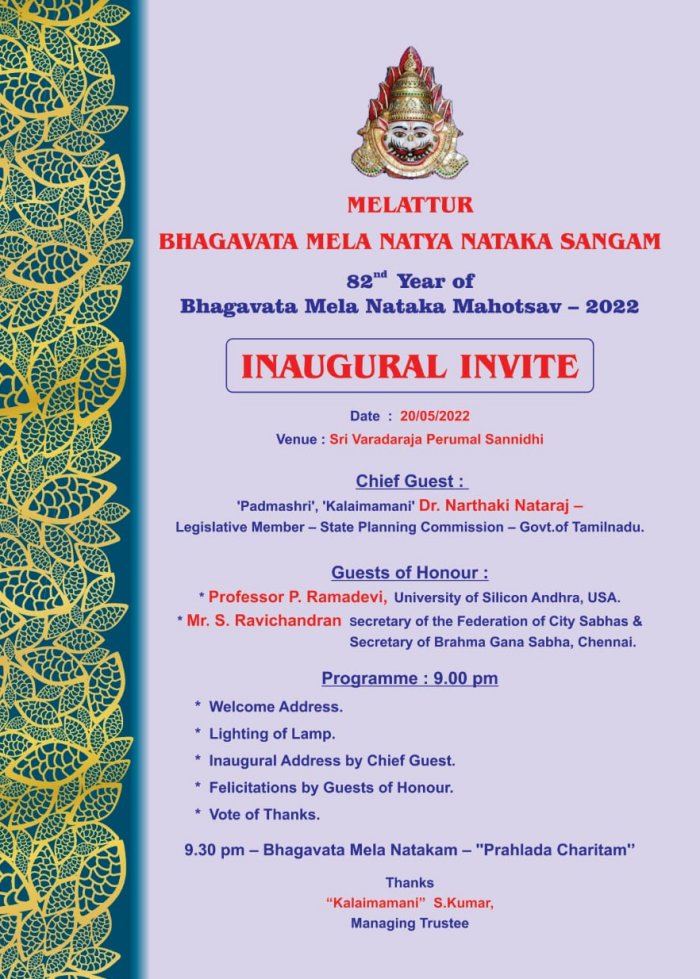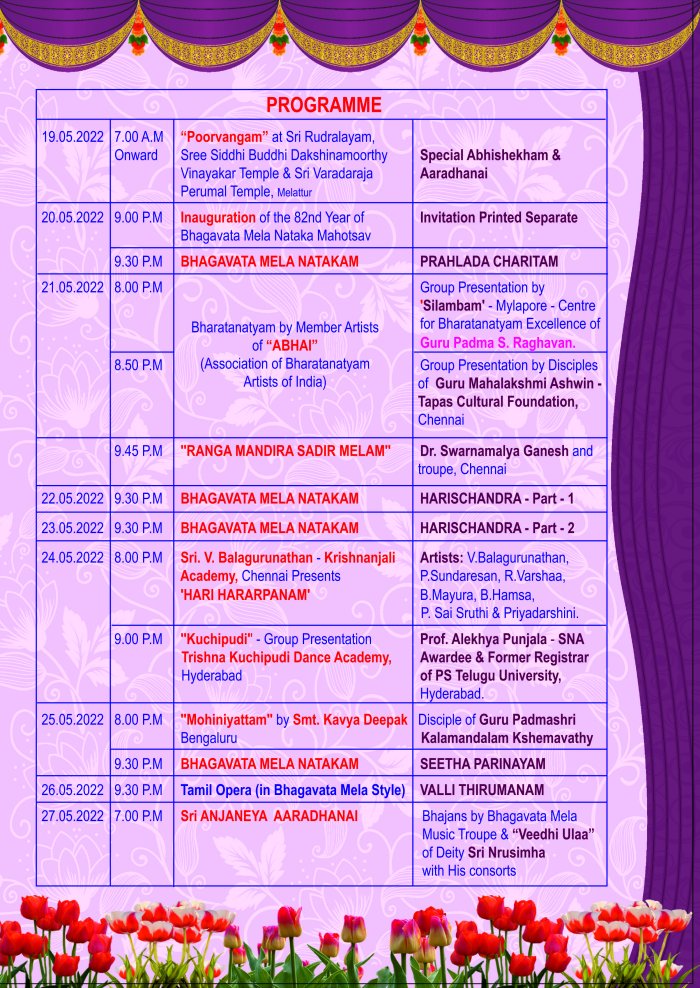 An Appeal:
It goes without saying that this Divine Art Form is upheld every year, only with the support of Corporate Sponsors, Philanthropists of this Theatre Art, Connoisseurs of Classical dance-drama, Patronage from the fine arts fraternity and the Devotees of the Divine Lord Nrusimha.

Hence, we earnestly appeal to you to generously Sponsor and Contribute as you have been supporting the Annual Mahotsav for the cause of this Divine Art Form and request you to join hands with us so as to make this Mahotsav, A Grand Success and also to receive the bountiful blessings of Lord Sri Nrusimha.

80G of IT Act: Kindly note that Donations to ''Bhagavata Mela Natya Nataka Sangam, Melattur'' (PAN No: AAETB3043Q) are allowed Deduction under 80G of the IT Act.
Your donation can be sent favouring ''Bhagavata Mela Natya Nataka Sangam'' to the below address or directly to the Bank Account and the details and complete postal address over E-Mail.

Address:
'Kalaimamani' S.Kumar, Bhagavata Mela Natya Nataka Sangam, ''Sree Ganananatha'', 67, South Street, Melattur, Thanjavur District. PIN: 614 301

Bank Details:
Name of the Account: Bhagavata Mela Natya Nataka Sangam
SB A/C No: 100029222730
Bank: Equitas Small Finance Bank, Thanjavur Branch
IFSC Code: ESFB0001019

Thanking you in anticipation of your continued support and looking forward to the pleasure of meeting you and hosting you at Melattur soon.